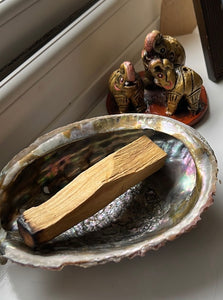 ✭ Abalone Shell 
- Smudge/Incense shell, Jewellery dish
⭐  Protective energy  
⭐  Increases emotional balance
These gorgeous Abalone Shells have a variety of uses, perfect for pairing with your Sage/Palo Santo, to stand your crystals inside or on top or use as a jewellery dish!
Each shell is unique and will differ slightly in colour, size and finish. Due to the nature of the shells there will be some organic matter on them, they may smell of the ocean naturally, which we believe adds character and tells a story of it's origin!
Price is per Abalone Shell. Shells are approximately 8-12cm.
All items are photographed to the best of our ability to show their true colours, however due to the nature of the item, colour, shape and size may differ slightly.