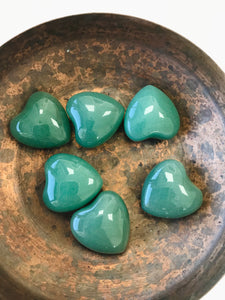 ✭ Aventurine Puff Heart
Chakra: Heart
⭐ Luck
⭐ Calms negative emotions
⭐ Confidence
These glistening semi-translucent green Aventurine puff hearts are gorgeous! They're polished to perfection and would make the perfect gift!
Green Aventurine is thought to be one of the lucky crystals. It brings good fortune and new opportunities.
Each crystal will be cleansed and charged with Reiki Energy before being sent out to you. If you would prefer us not to do this, then please drop us an email with your request. 
Price is per heart. Approx 2cm
All crystals are photographed to the best of our ability to show their true colours, however due to the nature of the item, colours may differ slightly. 
Read on for more information on this green crystal...
It can be used to manifest wealth, prosperity and change. Not only is it lucky, it allows other parts of your life to align and work in harmony with each other. It helps release old energy and patterns, that may not serve you anymore, and attract new habits and possibilities. 
When it comes to matters of the heart, Aventurine alleviates stress and anxiety and stimulates confidence and hope. It gives off positive vibrations and encourages you to try seek out love.