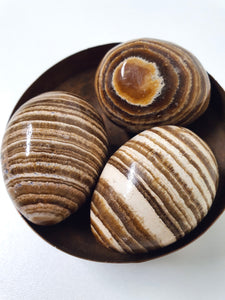 ✭ Brown Aragonite Egg
⭐️  Grounding and centering
⭐️  Foster truth and understanding
⭐️  Motivating procrastinators
Chakra: All Chakras
These unique Aragonite eggs are a lovely warm, calming coloured stone that creates a soothing ambience and suits any home decor. 
The stone can be used to help motivate procrastinating family members who regularly put off important tasks until tomorrow. It improves time-keeping abilities, not just for yourself but, family or friends in the same environment around you. 
We all need a little motivation in our lives so why not keep this gorgeous egg on a stand in your home.
You will receive an egg similar to what is shown and a complimentary stand. 
The Copper bowl is not included, but can be purchased HERE.

Size: approx 4.5cm-6cm 
This crystal will be cleansed and charged with Reiki Energy before being sent out to you. If you would prefer us not to do this, then please send us an email with your request.
All products are photographed to the best of our ability to show their true colours, however, due to the nature of the item, colours may differ slightly.
Want to learn more? Keep reading below.. 
Aragonite also promotes reliability and discipline in people, providing insight into difficult issues, especially in business. At work, Aragonite helps clear the mind, stimulates motivation and provides mental energy required to meet professional challenges.
For all these qualities, Aragonite was also favoured by Spanish monks for use in their rosaries and is also the primary mineral that makes up the organic compound commonly known as mother of pearl.