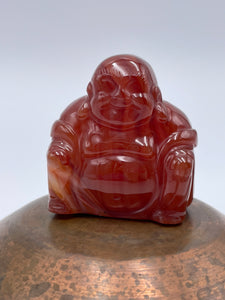 ✭ Carnelian Buddha
Chakra: Sacral
⭐ Promote positive life choices 
⭐ Stone of courage & creativity
⭐ Stimulate sexuality and boost fertility

Buddha statues, not only look great in your home, but are believed to attract happiness, abundance and gratitude in all aspects of your life.

Carnelian gives off a warm, bold energy. This vibrant stone is great to hold in your hand as the vibrations draw in great amounts of life force, creative energies and a fiery passion. Carnelian strengthens the body and reminds us that the physical body is the temple which aids in focusing on a healthy state.
Each crystal will be cleansed and charged with Reiki energy before being sent out to you. If you would prefer us not to do this, then please drop us an email with your request.

Size: 5cm
You will receive the exact Buddha that is shown in the picture. Copper bowl not included.

All crystals are photographed to the best of our ability to show their true colours, however due to the nature of the item, colours may differ slightly.