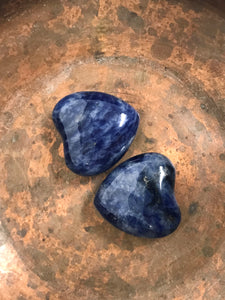 ✭ 𝑺𝒐𝒅𝒂𝒍𝒊𝒕𝒆 𝑷𝒖𝒇𝒇 𝑯𝒆𝒂𝒓𝒕
Chakra: Third Eye & Throat
⭐  Helps verbalise feelings
⭐  Calms the mind
⭐  Enhances self acceptance
The stone of awakening and peace. This deep blue stone has so many amazing qualities, from encouraging objectivity, truth and rationality, to boosting the immune system and overcoming calcium deficiencies. It helps those who feel they are too emotional as it helps you concentrate and focus your energy on your Third Eye and Throat Chakra. 
Approx Sizes: 2cm

Each crystal will be cleansed and charged with Reiki Energy before being sent out to you. If you would prefer us not to do this, then please drop us an email with your request.

All stones are unique and will differ slightly in size & shape. The colours are 100% natural and all crystals are one-off pieces.
All crystals are photographed to the best of our ability to show their true colours, however due to the nature of the item, colours may differ slightly.
Copper bowl not included.