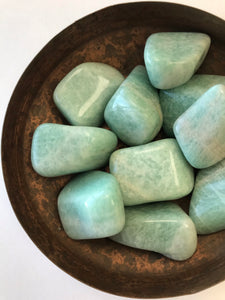 ✭ Amazonite Tumbled Stone
Chakra: Heart & Throat Chakra 

⭐ Truth
⭐ Harmony
⭐ Speaking the truth 

Amazonite channels your ability to speak the truth, it brings harmony in gathering your thoughts to release and communicate truthfully.
These polished tumble stones are infused with Reiki, hand-picked & sent with love.  They are the perfect size to keep in your pocket or hold in your hand. 
All stones are unique and will differ slightly in size and shape.
All crystals are photographed to the best of our ability to show their true colours, however, due to the nature of the item, colours may differ slightly. 
Approximately 2-3cm.
Price is per stone. 
Carry on reading for more information on this blue crystal...
The pale azure blue amazonite is also known as the lucky 'Hope stone'. It is a great stone to add to any collection. The dazzling emerald hue and mottled light-green aqua specks echo the colour of the Amazon River and its calming and soothing energies.  Tumbling, a long process of smoothing and polishing, reveals the wonderful colour and form of these natural treasures that are so often hidden deep in the earth. 
It allows you to be true to yourself by encouraging self-determination and self-confidence while staying connected to others. This powerful stone of courage empowers you to discover your own truth and integrity and move beyond the fear of judgement. 
☾  'I can achieve anything I set my mind to do.' 
Say this mantra out loud whilst holding your crystal and let the Amazonite meaning work to magnify your intentions and affirmation.