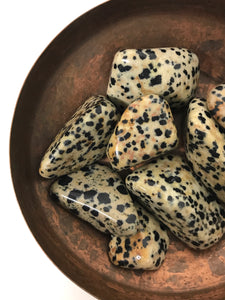 ✭ Dalmatian Jasper Tumbled Stone
Chakras : Root, Sacral, Solar Plexus
⭐️  Loyalty
⭐️  Fun and joy
⭐️  Breaks down barriers you have created
A powerful grounding stone, with the ability to remove disillusionment and help to see your strengths and weaknesses more clearly. The Dalmatian Jasper stone assists you in moving forward in your life, it is a wonderful stone to use when you want to review and reflect on past actions and decisions. So, if a similar situation has presented itself, you will be prepared to make a more informed choice.
These polished tumble stones will be intuitively hand-picked & sent with love.  They are the perfect size to keep in your pocket or hold in your hand.
The colours are 100% natural and each tumblestone will vary in size, shape and colour. 
Each crystal will be cleansed and charged with Reiki Energy before being sent out to you. If you would prefer us not to do this, then please drop us an email with your request. 
All crystals are photographed to the best of our ability to show their true colours, however, due to the nature of the item, colours may differ slightly. 
Price per stone. Approx 3cm. Copper bowl NOT included 
Carry on reading for more information on this Crystal...
Dalmatian Jasper is also a protective stone, with inclusions of Black Tourmaline and iron oxide to resemble a coat of a Dalmatian dog!
Carry this stone to help you reduce feelings of discouragement, helping you to look at the positives instead of the negatives of any situation. As well as bringing that sense of playfulness into your life, this stone encourages team efforts and is believed to encourage fidelity and emotional harmony.