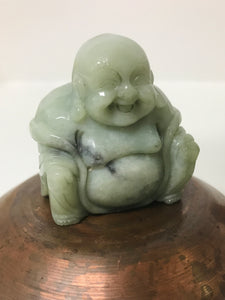 ✭ Serpentine New Jade Buddha
Chakra: Heart
⭐  Lifts spirits and brings luck
⭐  Balances your emotions
⭐  Deepens meditation
The Laughing Buddha is a well known symbol around the world. It is believed to bring fulfilment in life, luck and blessings. It attracts abundance in any aspect of life that you may desire, such as love, wealth or happiness.
The mineral New Jade, enhances the symbolism of a Buddha and is seen to restore emotional balance in your life. New Jade is a form of Serpentine and not in fact Jade. it is very commonly mistaken for Jade due to its natural light green colouration and its similar spiritual properties. 
Known for its cleansing and detoxifying properties, New Jade has very gentle calming energy and promotes a deep meditative state when working with this mineral. It aids emotional release, especially of irritability and agitation and encourages you to become who you really are.
Each crystal will be cleansed and charged with Reiki energy before being sent out to you. If you would prefer us not to do this, then please drop us an email with your request.
Size: 5cm.
You will receive a Buddha similar to the one in the picture. Copper bowl not included.

All crystals are photographed to the best of our ability to show their true colours, however, due to the nature of the item, colours may differ slightly.