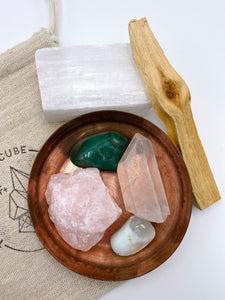 Attract an abundance of love and happiness with this kit.
Rose Quartz | Blue Opal | Aventurine | Clear Quartz | Palo Santo + a free gift of Selenite
Why is love important?
It calls out to our heart and makes us feel connected to one another. It can make us feel safe and secure by removing fears and encourages us to be nice to one another. 
Having self love is also so important. it can make us feel strong and confident, give us the power to believe in ourselves and manifest our dreams. If we can not love and accept ourselves for who we are, how can we expect someone else to as well? 
If you're looking for a way to feel comfortable in your own skin, attract a life partner, create some joy in your life and in general feel at peace with yourself, then this kit would be grear for you. 
Rough Rose Quartz 
→ Unconditional love • Inner peace • Forgiveness
Rose quartz is a compassionate stone for the heart. This pink crystal has the power and strength to help us forgive, push us to love unconditionally and be honest in our relationships. 
It can heal hearts, repair trust and attract warmth and tenderness into all aspects of our lives. It reminds us, most importantly, that we must have love for ourselves.


Blue Opal Tumbled Stone
→ Communication • Attracts like-minded people •  Seductive
Blue opal is a spiritual healing stone. It helps release tension and stress, and brings peace, calm and serenity. 
For those of you who get stressed easily, this would be a great stone for you. It encourages freedom, releases inhibitions and intensifies emotions.


Aventurine Tumbled Stone
→ Stone of opportunity • Calms negative emotions • Confidence
Green Aventurine is thought to be one of the lucky crystals. It brings good fortune and gives the motivation, strength and perseverance for new opportunities.
When it comes to matters of the heart, Aventurine alleviates stress and anxiety and stimulates confidence and hope. It gives off positive vibrations and encourages you to seek out love.


Clear Quartz Point
→ Amplify • Clarify • Healing
Quartz points are all naturally formed crystals that taper to the end. They are all individual shapes and size, with both rough and smooth surfaces. This powerful stone is thought to be the most versatile healing stone, and is able to work in all conditions.
It amplifies any energy, and can be used to set your intentions for the day or week.
This Clear Quartz crystal, will open your mind and heart, allowing you to receive a greater energy, clearer perspective and clarity of mind. 


Palo Santo
→ Use Palo Santo to cleanse, purify & remove stagnant energy from your space

• Light your stick of Palo Santo and let it burn for 30 seconds before you blow out the flame
• Gently wave your Palo Santo around your space to spread the cleansing sweet smelling smoke


Selenite Stick
→ Clears Energy •  Honesty • Clarity

Selenite is known as one of the most sacred crystals throughout history. It is a stone of purity and light and has the power to protect you from outside influences or negativity. 
It has powerful vibrations that can help access a deeper mediation and activate the crown chakra, allowing you to make connections with your guides.
Each crystal will be cleansed and charged with Reiki Energy before being sent out to you. If you would prefer us not to do this, then please drop us an email with your request.

All stones are unique and will differ slightly in size & shape. The colours are 100% natural and all crystals are one-off pieces.
All crystals are photographed to the best of our ability to show their true colours, however due to the nature of the item, colours may differ slightly.
Copper bowl & bag not included.