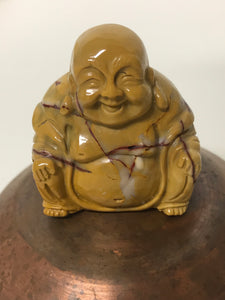 ✭ 𝑴𝒐𝒐𝒌𝒂𝒊𝒕𝒆 𝑩𝒖𝒅𝒅𝒉𝒂
Chakra: Third Eye & Heart
⭐  Lifts spirits
⭐  Balances your emotions
⭐  Slow and steady change
The Laughing Buddha is a well known symbol around the world. It is believed to bring fulfilment in life, luck and blessings. It attracts abundance in any aspect of life that you may desire, such as love, wealth or happiness. 
Mookaite works as a confidence booster, with its grounding and stabilising impact, it provides the power that allows you to overcome challenges and embrace opportunities. Great as a companion in any journey, whether it be an adventure through the Alps or on a road trip to the countryside. 
The most unique energetic benefits Mookaite is known for is its anti-ageing properties. It embraces the power of an ageless spirit which helps one to understand the correlation between the body and mind. 
Keep it in your home office to banish any competition or negative vibes that may try and interfere with your job or career path. 
Do not keep your Buddha on the floor, kitchen or bathroom. 
Each crystal will be cleansed and charged with Reiki energy before being sent out to you. If you would prefer us not to do this, then please drop us an email with your request.
Size: 5cm.
You will receive a similar Mookaite Buddha to that in the picture. Copper bowl not included.

All crystals are photographed to the best of our ability to show their true colours, however due to the nature of the item, colours may differ slightly.