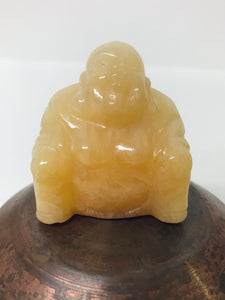 ✭ Orange Calcite Buddha
Chakra: Root & Sacral Chakras
⭐ Encourages stability
⭐ Heals and strengthens bones and teeth
⭐ Pushes you to take action

Buddha statues, not only look great in your home, but are believed to attract happiness, abundance and gratitude in all aspects of your life.

Orange Calcite is a great crystal for those who may suffer from depression. It has a very positive energy and attracts bright vibrations into your life. When dealing with emotional or tough issues, Orange Calcite is useful to have around as it repairs, restores and strengthens your energy.

Each crystal will be cleansed and charged with Reiki energy before being sent out to you. If you would prefer us not to do this, then please drop us an email with your request.

Size: 5cm
You will receive the exact Buddha in the picture. Copper bowl not included.

All crystals are photographed to the best of our ability to show their true colours, however due to the nature of the item, colours may differ slightly.