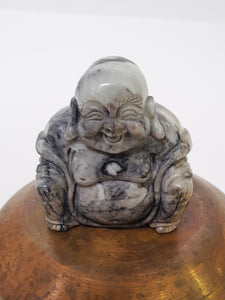 ✭ Picasso Jasper Buddha
Chakra: Root, Sacral & Heart
⭐ Self discipline
⭐ Positivity
⭐ Grounding
The Laughing Buddha is a well known symbol around the world. It is believed to bring fulfilment in life, luck and blessings. It attracts abundance in any aspect of life that you may desire, such as love, wealth or happiness. 
Keep it in your home office to banish any competition or negative vibes that may try and interfere with your job or career. 
Do not keep your Buddha on the floor, kitchen or bathroom. 
Picasso Jasper, named after Pablo Picasso because of the similarity in the colours once used by the famous artist, is a crystal that reminds us to be grateful and celebrate life. 
It helps us find a balance between helping others and ensuring we look after ourselves too. It can attract like minded people and help reconnect old friends. 
Picasso Jasper has strong grounding and calming properties that can help you stay focused and excited about projects you may be working on whilst keeping your creativity alive. 
Each crystal will be cleansed and charged with Reiki energy before being sent out to you. If you would prefer us not to do this, then please drop us an email with your request.
Size: 5cm.
You will receive the exact Buddha in the picture. Copper bowl not included.

All crystals are photographed to the best of our ability to show their true colours, however due to the nature of the item, colours may differ slightly.