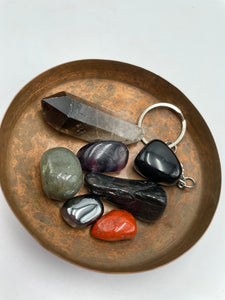 ✭ The Grounding & Protection Kit
 Smokey Quartz | Hematite | Black Obsidian 
| Red Jasper | Black Tourmaline | Labradorite | Fluorite 
Do you get a weird feeling when you talk to certain people? Do you feel emotionally and physically drained when you get back from work? Do you feel lost or uneasy?

This could be because you're not protecting your space, your energy or your aura from other unwanted energies. It could be someone who is jealous of you, but it could also be energy that just clashes with your own. 

Creating a bubble of protection around us is so important. It means that nothing can affect your energy and you stay in control. 
Grounding is also such an important daily activity we should all practice. If we connect our being to the earth, we become more stable, clear headed and focused. It ensures we are no longer easily manipulated, or vulnerable to outside forces. 


 Smokey Quartz 
 → Invites emotional calmness • Grounds you by removing fear, anxiety and negativity • Soothes your soul and your aura
Hematite
 → Grounds and connects you to the Earth • Banishes negative energy from entering your space • Gives you courage and strength to carry on

Black Obsidian
 → Protects you from negativity from within • Protects and cleanses your aura • Powerful protection stone that brings our own negativity to light

Red Jasper
 → Can make you feel stable and secure • Rids of negative energy at work • Gives you the strength to resist any emotional hold someone may have over you

Black Tourmaline
  →  Provides protection & grounding • Helps control fear • Shields you from low vibrations that could come from other people, places and certain circumstances. 

Labradorite
 → Protects your Heart Chakra • Shields against peoples fixations and ill wishes • Tempers our own negativity from within

Fluorite
 → Protects your aura • Wards of negative energy that may affect your personal relationships  • Shuts down any mental manipulation

Each crystal will be cleansed and charged with Reiki Energy before being sent out to you. If you would prefer us not to do this, then please drop us an email with your request.

All stones are unique and will differ slightly in size & shape. The colours are 100% natural and all crystals are one-off pieces.
All crystals are photographed to the best of our ability to show their true colours, however, due to the nature of the item, colours may differ slightly.
Copper bowl & bag not included.
These crystals will allow you to accept and work on, what needs healing.
We must advise, these beautiful crystals, are not magic and won't make your problems vanish, but instead, will aid you in whatever you may need energetically.
PLEASE always seek advice from medical professionals first.