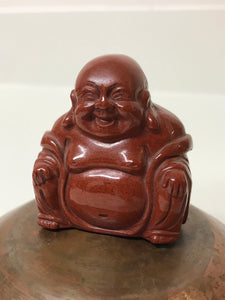 ✭ Red Jasper Buddha
Chakra: Root
⭐  Emotional protection
⭐  Empowers
⭐  Slow and steady energy
The Laughing Buddha is a well known symbol around the world. It is believed to bring fulfilment in life, luck and blessings. It attracts abundance in any aspect of life that you may desire, such as love, wealth or happiness.
Red Jasper has a calm and steady energy that can help stimulate and encourage physical strength and energy to manifest. It's a stone for endurance, and helps you create a strong and lasting energy that will support you during hard times.
It is the perfect stone for growing courage and confidence, especially for children who may be getting bullied. Its powerful bright red colour reminds us to also be powerful and bright and gives us the push we need to overcome bullies.
Bullies can come in all forms and at different stages in our lives. Red Jasper is a very empowering crystal and can give you the strength to resist any emotional hold someone may have over you and give you the courage to overcome and heal from domestic violence, physical, sexual or emotional. 
When in the process of healing, it is a great grounding stone that can make you feel stable and secure. It is also believed to be an excellent stone for increasing fertility and conducive in having a happy healthy pregnancy.

Keep it in your home office to banish any competition or negative vibes that may try and interfere with your job or career. 
Best kept away off the floor, in the kitchen or bathroom. 
Each crystal will be cleansed and charged with Reiki energy before being sent out to you. If you would prefer us not to do this, then please drop us an email with your request.
Size: 5cm.
You will receive the exact Buddha in the picture. Copper bowl not included.

All crystals are photographed to the best of our ability to show their true colours, however due to the nature of the item, colours may differ slightly.
Did you know?
Jasper has been used for centuries and can be traced back to ancient civilisation, where shamans and priests would wear Jasper for protection from the physical world, as well as the spiritual.  Egyptians used to carve pieces of Jasper with ancient text and symbols from the Book of the dead. This was to ensure that the dead who were mummified and buried would get safe passage into the afterlife.