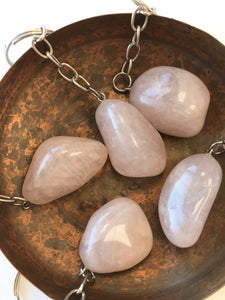 ✭ Rose Quartz Keyring
Chakra: Heart
⭐  Unconditional love
⭐  Inner peace
⭐  Forgiveness
A great way to carry your favourite stone around with you! 
Rose quartz is a compassionate stone for the heart. This pink crystal has the power and strength to help us forgive, push us to love unconditionally and be honest in our relationships. 
All crystals are tumbled, natural and have not been dyed. They are all unique and will differ slightly in size, shape and colour. 
Keyrings will be intuitively picked and sent with love. 
Each keyring is approximately 3cm. Copper bowl not included.
Each crystal will be cleansed and charged with Reiki energy before being sent out to you. If you would prefer us not to do this, then please drop us an email with your request.
All crystals are photographed to the best of our ability to show their true colours, however, due to the nature of the item, colours may differ slightly.
Want to know more about this pink crystal?
It can heal hearts, repair trust and attract warmth and tenderness into all aspects of our lives. It reminds us, most importantly, that we must have love for ourselves. 
It replaces negative energy with caring and calming vibes, and allows room for love, in our already hectic lives. 
Whether you're looking for a life partner, rekindle a friendship, or ignite some passion into your life, Rose Quartz is the crystal for you.
Keep your Rose Quartz in the southwest corner of your bedroom, to invite this pink passionate energy into your life!