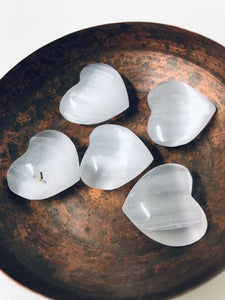 ✭ Selenite Heart
Chakra: Crown
⭐  Clears Energy
⭐  Honesty
⭐  Clarity
Selenite is a translucent crystal and is one of the softest crystals in the mineral kingdom. It carries the power of the moon making it a great mineral for cleansing other crystals. 
Through radiating light energy, it promotes purity and honesty and forces the person holding it to be honest with themselves. 
Each crystal will be cleansed and charged with Reiki energy before being sent out to you. If you would prefer us not to do this, then please drop us an email with your request.
These polished Selenite hearts will be intuitively hand-picked & sent with love. They are the perfect size to keep in your pocket or hold in your hand.
Size approx 2.5cm 
All crystals are photographed to the best of our ability to show their true colours, however, due to the nature of the item, colours may differ slightly. 
What is Selenite?
It is perfectly normal to see crumbs or small shards break off your raw pieces, however, be careful not to get it wet, as water will dissolve your Selenite!
Selenite is known as one of the most sacred crystals throughout history. It is a stone of purity and light and has the power to protect you from outside influences or negativity. 
By clearing energy blockages, selenite allows for liquid-like energy fluidity.
It has powerful vibrations that can help access a deeper mediation and activate the crown chakra, allowing you to make connections with your guides. 
Keep a piece of Selenite close to the front door in your home. This will ensure all negative or stagnant energy that may be of no use to you anymore, are cleared away, creating a safe and peaceful space.