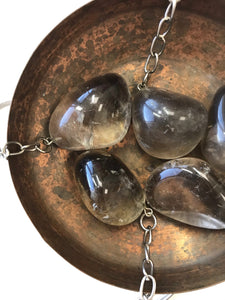 ✭ Smokey Quartz Keyring - 'Transmutation & grounding'
⭐  Transmutation & grounding
⭐  Stress relief
⭐  Calmness
A great way to carry your favourite stone around with you!
Each keyring is approximately 3cm.
Smokey quartz is a great grounding stone, however, it's also a powerful healer. It calms your energy and emotions, dissolves fear, soothes the soul and moves negative energy out of your aura.  
Each crystal will be cleansed and charged with Reiki energy before being sent out to you. If you would prefer us not to do this, then please drop us an email with your request. 
All stones are unique and will differ slightly in size, shape and feel. 
Price is per keyring. 
Your keyring will be intuitively chosen for you and sent with love.
All crystals are photographed to the best of our ability to show their true colours, however, due to the nature of the item, colours may differ slightly. 
With its brown shades and dark hues, it connects us to mother earth, reminding us to stay grounded and balanced.