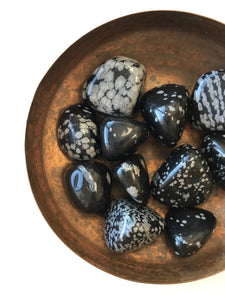 ✭ Snowflake Obsidian Tumbled Stone
- helps with balance during change & gives hope in darkness.
Chakra : Root and Third eye 
⭐ Balancing the mind, body and spirit 
⭐ Grounding
⭐ Purity
Snowflake Obsidian's gentle energy is akin to the light and airy energy of a snowflake. It helps you see the light within the darkness and brings balance to the body and mind giving hope. 
These polished tumble stones are infused with Reiki, hand-picked & sent with love. 
They are the perfect size to keep in your pocket or hold in your hand. 
All stones are unique and will differ slightly in size and shape. 
Price is per stone. Approximately 2-3cm. 
All crystals are photographed to the best of our ability to show their true colours, however, due to the nature of the item, colours may differ slightly.  
More on Snowflake Obsidian...
This stone comes from the raw energy of the Earth, the volcanic rock containing white 'snowflake' crystal patterns of the mineral Cristobalite. 
Similar to the lightness of a snowflake and the deep volcanic Obsidian, it combines light and darkness with hot and cold to create the ultimate balance. 
Lava is considered to be a stone of rebirth which relates to shedding away layers of emotional attachment. Similarly, the emotional release you feel with Snowflake Obsidian will be 'hot' at first, but will eventually 'cool' down just like lava. This sense of a newly found calm will bring peace, purity and the grounding you need to start a fresh beginning. 
Each snowflake is unique and so are you ❄
Simply holding the right crystal at the right time can bring about a change in our attitude and well-being. 
This crystal reminds us to value the mistakes we make, just as equally as our successes 🤍