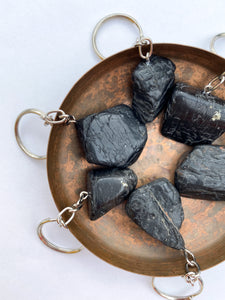 ✭ Black Tourmaline with Hematite Keyring

Chakra: Root Chakra

⭐  Provides protection
⭐  Increases concentration
⭐  Helps control fear
A great way to carry your favourite stone around with you!
Each crystal keyring will be cleansed and charged with Reiki Energy before being sent out to you. If you would prefer us not to do this, then please drop us an email with your request. 
Approximate size: 3cm
Your keyring will be intuitively picked for you with love ♡
Price is per keyring.
All crystals are photographed to the best of our ability to show their true colours, however, due to the nature of the item, colours may differ slightly. Copper bowl NOT included. 
More information about this gorgeous stone...
Black Tourmaline creates a bubble of protection around your energy and shields you from low vibrations that could come from other people, places and certain circumstances. 
Before this crystal became popular to the rest of the world, Many shamans of African, Aboriginal and Native American tribes, used to carry Tourmaline with them to protect themselves from danger.
It is a strong grounding crystal that can attract calmness to your being and allow you to think rationally. It encourages you to feel confident and believe in yourself, allowing you to be able to make the right decisions, especially when facing hard challenges in your life.
Hematite is a strong, self esteem boosting crystal, that banishes negative energy and vibes. It does not allow other peoples obstructive energies to enter our space. It works extremely well paired with Black Tourmaline and they can be naturally found together in some parts of the world.